Click Here to View All Listings in Shipyard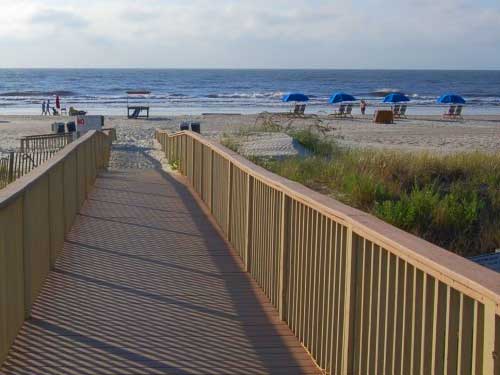 Shipyard Plantation was Hilton Head Island's second plantation developed for residential purposes. This 830-acre gated residential and vacation community located on the southeast coast of Hilton Head Island has approximately 2,106 density units, made up of neighborhoods of homes, villas and condominiums, all beautifully landscaped around fresh-water lagoons and plenty of trails. There are two residential neighborhoods that wrap around 27 holes of golf: Residential North which is located down Kingston Road and Residential South, which is located down Gloucester and Salem Road.
ALL OF THE BIKE AND LEISURE TRAILS THROUGHOUT
Shipyard offers twenty-seven holes of golf, twenty tennis courts, Van der Meer Tennis Center which was designed by Billie Jean King, a 338 room beachfront Hotel (Crown Plaza Resort), a world-class health institute, 255 residential lots, 400 interval ownership units and 1,080 condominium units. Shipyard has dual access to its community with a gate located of off Highway 278 as well as a gate located off of Pope Avenue: home to restuarants, shopping, movie theatres, miniature golf, a hardware store and more!
The Beach Club at Shipyard is another fantastic amenity that Shipyard residents and guests love to use. With access to Shipyard's beach, which was rated #3 in the US by the Travel Channel, the Beach Club has 400 beach storage lockers, restrooms, showers and best of all a gathering place for the Men's Club, the Women's Club, educational events, and plenty of social gatherings. One of the best things about Shipyard are its residents and its community atmosphere. Shipyard really is a community that enjoys getting together with other residents. The Men's Club and Women's Club meet often for golf, bowling, dinners/social events and even a trip to Savannah to catch a Sand Gnats game. Shipyard Property Owner's Association keeps residents abreast on what's happening with their Community News and Announcements every month. Whether you are a full time resident or a part time property owner you are always welcome here.
Top 5 Reasons to Live in Shipyard
MEN'S AND WOMAN'S CLUB AND THE TRUE SENSE OF A COMMUNITY
CONVENIENT SOUTH END LOCATION W/2 GATES
THE BEACH CLUB: FANTASTIC FACILITY W/SHOWERS, BATHROOM AND LOCKERS……DIRECT BEACH ACCESS
VAN DER MEER SHIPYARD RACQUET CLUB: WORLD CLASS TENNIS FACILITY
THE BEAUTY OF SHIPYARD PLANTATION, WHICH SHOWS WITH