Click Here to View All Listings in Long Cove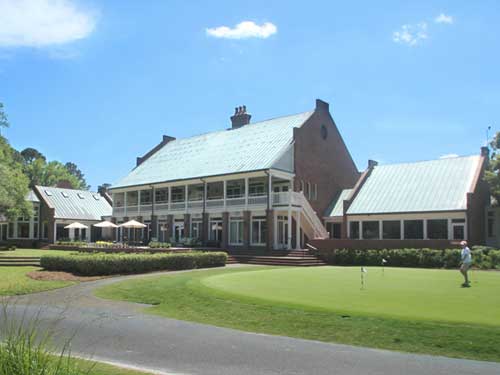 Long Cove Club is nestled in the southeast corner of Hilton Head Island, between Wexford Plantation and Shelter Cove. Comprised of a 630 acre sentinel pine and live oak forest. Long Cove contains 570 home sites just a short bike ride to the beach. Many of the homes feautre wrap-around porches, summer kitchens and multiple fireplaces a as sweeping saltmarsh and lagoon views.
On this canvas of marsh and lagoons, golf course architect and artist Pete Dye created a masterpiece unlike any other. Steeped in the rich history of the Old South, this 18-hole championship course embraces the romance and charm of the Carolina Lowcountry. The heartbeat of the tidal life at Long Cove Club begins at the (74) slip marina, which juts out onto Broad Creek. Long Cove Yacht Club has more than 400 active members who enjoy year-round socials, boating, kayaking, crabbing and fishing events. Located in a beautiful setting ridged by trees and shrubs is the Tennis Center with (8) Har-Tru courts, a viewing terrace for the matches and a pro shop. Here is a community that is bridged by friends, neighbors, children, grandchildren and all the activity you could hope for or all the solitude you could want. Long Cove is all that you would expect from a southern first class and elite plantation.
The Vision
The vision for Long Cove was developed in the early 1970's by three young men who honed their skills and development philosophies working for the Sea Pines Company on Hilton Head Island. The developers knew they had found the perfect piece of land to build a community that returned to the simple and exclusive principles of private, single-family residential living, removed from the hubbub created by island tourists. In 1981, when Long Cove Club was unveiled, it lured to the island a bevy of selective golfers seeking world-class golf with a Pete Dye masterpiece as its crowning jewel. Today, the club that set the standard for golf course communities finds itself leading the pack. Long Cove Club continues to build on the traditions that make it among the premier communities anywhere in the world.
World Class Amenities
As you would guess, all of the pleasures & facilities of Hilton Head Island are only minutes away and returning to the privacy of Long Cove is always an enjoyable ride. The residents needn't travel far for anything. Just outside the community gate are world-class restaurants, shopping, beaches, grocery stores and schools. Long Cove Plantation contains a variety of amenities including farm plots available for residents to grow their own vegetables and flowers. There is a playground with of climbing equipment, a basketball court, and a butterfly garden. There are fresh water lagoons where you can catch bass and brim. There is a junior Olympic size pool and a children's wading pool.
In 1981, the Long Cove Club opened and was soon ranked in the top half of the Golf Digest list of "America's Top 100 Golf Courses" and continues to receive accolades from golf historians. The more than 7,000 yard, par 71 golf course stretches past groves of historic live oaks, azaleas, serene tidal marshes and lagoons. Wonderfully adaptable, tee boxes accommodate golfers of all skill levels. It is not rare to gaze upon eagles, heron, alligators, and a variety of other low country wild life treasures. Long Cove boasts a 14,000 square foot Clubhouse that consists of all that is necessary to provide a comfortable yet supreme intimate setting for congregating with other Long Cove Plantation residents. The environment is as natural and comfortable as the community itself.
Long Cove Club will continue to progress as one of the outstanding private, secure residential communities - noted for its natural beauty and casual elegance, exceptionally maintained amenities (anchored by its nationally acclaimed golf course), community spirit, and excellent service to its members and guests - where special, caring and active people of diverse interests experience and enjoy an exceptional quality of life and leisure.
Top 5 Reasons to Live in Long Cove Plantation
NATIONALLY-RENOWNED PAR 71 GOLF COURSE DESIGNED BY PETE DYE
MARINA SITUATED ON THE BROAD CREEK WITH ACCESS TO BOAT DOCKS, KAYAKING AND CRABBING
TENNIS FACILITY WITH HAR-TRU COURTS & JUNIOR-OLYMPIC SIZED POOL
CLOSE TO HILTON HEAD BEACHES & SHOPPING
TRADITIONAL CLUBHOUSE WITH GOLF PRO SHOP, LOCKER ROOM FACILITIES, TWO DINING ROOMS & BAR/LOUNGE