Click Here to View All Listings in Palmetto Hall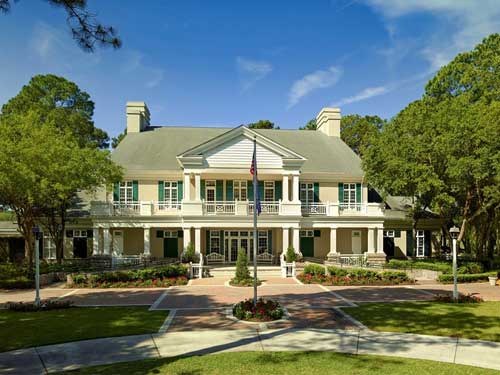 Palmetto Hall is a residential community of 552 homes centered on 750 acres, adjacent to Hilton Head Plantation. This non-resort location is excellent with supermarkets, drug stores, the hospital, the airport, the beaches, and all of the other Hilton Head Island amenities within minutes.
Palmetto Hall offers potential buyers some of the newest construction on the Island with mid-size to large homes designed in classic southern style with high ceilings and elegant appointments. The feel throughout the plantation is lush and spacious and there are over (200) acres of natural wetlands, preserves, and lagoons. Fishing is allowed in the lagoons and lakes.
Palmetto Hall has two (18) hole golf courses and the Arthur Hills course is ranked among the top ten new courses in the country. Club membership includes use of the 14,000 square foot low country Clubhouse, pro shop, golf practice facility, swimming pool, playground, and tennis courts.
The Clubhouse, which offers the best of southern charm with double porches and sweeping views of the manicured greens, is the centerpiece of the Plantation.
Both the Arthur Hills and Robert Cupp courses allow public play. The Clubhouse includes a member-only lounge, private dining and card rooms plus a club dining room. Two hard surfaces tennis courts are available at the Clubhouse.
Palmetto Hall Plantation is an excellent choice for a home owner or visitor looking to relax, to find adventure, to utilize the amenities, or a mixture of all of the above.


Top 5 Reasons to Live in Palmetto Dunes & Shelter Cove
ONE OF HILTON HEAD ISLAND'S YOUNGEST PLANTATION COMMUNITIES.
TWO 18-HOLE CHAMPIONSHIP GOLF COURSES.
CONVENIENTLY LOCATED NEAR THE BEACH PARK, SHOPPING, DINING, MEDICAL FACILITIES AND THE SCHOOLS.
ALL HOMES IN THE COMMUNITY ARE NEWER CONSTRUCTION WITH A CONSISTENCY ABOUT THEM.
EVERY PALMETTO HALL PROPERTY OWNER IS A MEMBER OF THE CLUB WHICH OFFERS A BAR & GRILL, SCHEDULED SOCIAL EVENTS THROUGHOUT THE YEAR, JUNIOR OLYMPIC SIZE SWIMMING POOL, CHILDREN'S POOL, LIGHTED TENNIS COURTS AND PLAYGROUND.